Apprenticeships
The Government provides a range of grants and incentives for businesses looking to hire an apprentice, so it's always a great time to start exploring your options. We can help you navigate the range of apprenticeships and apprenticeship providers available across Greater Manchester and beyond, and support you in your application the Apprenticeship Levy service.
Kickstart
Kickstart is a new £2 billion Government scheme that is creating hundreds of thousands of Government-subsidised job placements to help young people into work and support the UK's economic revival. As an employer, Kickstart will give you access to a large pool of young people with potential, who are ready for an opportunity, at zero cost to you. We can work with you to deliver high-quality placements that go beyond the minimum requirements of the scheme to deliver an outstanding experience that both you and they can be proud of.
Recruitment and onboarding
Now that virtual interactions, remote working, and agile operating procedures have become embedded in normal work practice, the way in which we recruit and welcome new talent to a business is changing and adapting. We can work with you to ensure best practice in employment and HR, helping to increase retention and employee engagement, and to bring out the best in your team.
GM Good Employment Charter
The Greater Manchester Good Employment Charter is a voluntary membership and assessment scheme aiming to improve employment standards in the city region. Employers of any size or sector can join the movement by making a commitment to improve practice in all the characteristics of good employment as set out by the Charter: secure flexible work, , promote the real living wage, employee engagement and voice, recruitment, people management, and health and wellbeing. All employers begin their journey as Supporters and can work towards becoming Members and Advocates.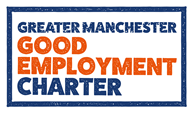 Discover GM Skills Map
Ready to start exploring training courses for your team? Visit GM Skills Map here to get started.
Start your Skills for Growth Journey Today
Apply for Skills for Growth - SME Support and start upskilling your team today